Product
ULTRASONIC PEST AWAY (3 Speakers), PEST REPELLER, PEST CONTROLLER, RAT REPELLER, MOUSE REPELLER, MICE REPELLER, MARTEN REPELLER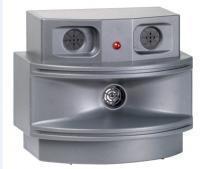 TRIPLE ULTRASONIC PEST AWAY PLUS
Product ID: Model:LA-1688
ULTRASONIC PEST REPELLER (3 Speakers)
KEEP THOSE UNFRIENDLY PESTS OUT OF YOUR WAY!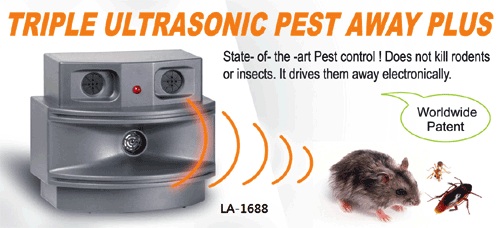 Pest Away Plus emits high-intensive ultrasonic sound waves with wide-angle coverage. It's effective in controlling mice, roaches, fleas, flies, ants, and most other common pests.
Pest Away Plus projects direct frequency from 25,000Hz-28,000Hz for 0.6 second at every 1.2 second intermittently. With this continuous cycle, the pests will never be used to the undulatory signal emitted by Pest Away Plus. They will even be frightened by this unexpected attack.
Pest Away Plus is a new product with a brand-new Triple-Sonic design.
It effectively protects an area measuring 4,000-5,000 unobstructed square feet.

APPLICATIONS
For use in home, apartment, restaurant, school, office or any indoor area.

FEATURES
Environmentally safe, no toxic chemicals, sprays, powders or messy traps.
Harmless to humans and most pets.
Maintenance free-includes limited warranty.
Safe, effective, State- of- the -art Pest control !
Does not kill rodents or insects. It drives them away electronically.
Harmless to humans and most pets.

 SPECIFICATIONS
Dimensions: 108 x 72 x 92 m/m
Weight: 125 grams
Power supply: 100-240 volts AC 60/50 cycles
Power consumption: 1.5 watts
Frequency range: 25000Hz-28000Hz
Output sound pressure: 130 db

Worldwide Patent
MADE IN TAIWAN