Product
PIR MINI ALARM, MINI ALARM, PIR ALARM, ALARM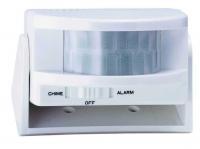 TK-2 PIR MINI ALARM
Product ID: TK-2
COMPACT P.I.R. MINI ALARM (TK-2)
TOTAL SECURITY CONTROL CAN BE AN ANNUNCIATOR AS WELL!
3-IN-1 : CHIME/DOOR BELL/ALARM
The PIR MINI ALARM is a PIR detector. It has door bell or alarm sound when MINI ALARM detects entering person by comparing constant background temperature with rapidly changing temperature created by moving person.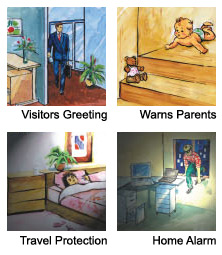 APPLICATION
Home
Office
Shop
Traveling
Camping,…..etc.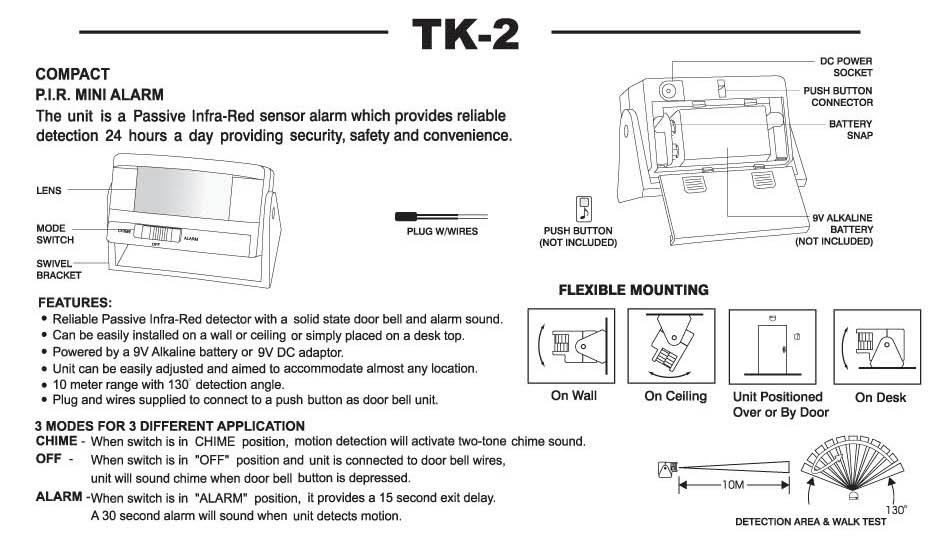 FEATURES
Easy insta

llation
No maintenance required
Compact design, battery/adaptor operation
Selectable functions: ALARM, CHIME, OFF
Can be connected with door bell button
Can be fixed to a wall or ceiling or simply put on a desk-top

SPECIFICATIONS
Dimensions: 60 x 78 x 52 mm
Weight : 85 g.
Power supply: 9V battery or 9 V adaptor
Power :Standby current: 0.35mA
-Warm up time: 15 seconds
- Alarm delay time: 30 seconds
-Alarm delay time when changing
-To different mode: 15 seconds
Detection coverage: fan shaped area of 130 degree, distance up to 10M.


Made In Taiwan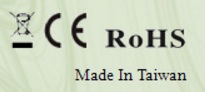 Order Information:
Minimum Order: 500-1000
FOB: Taiwan