Product
PIR ANIMAL REPELLER, ANIMAL REPELLER, DOG REPELLER, DOG CONTROLLER

PIR ANIMAL REPELLER
Product ID: LA-1698
LA-1698 PIR Animal Repeller (Dog & Cat Repeller)
Repels Unwanted Animals From Your Yard & Garden!
This ANIMAL REPELLER uses PIR, ultrasonic sound and Blue flashing strobe to repel animals

This humane, effective and maintenance-free electronic animal repeller keeps animals away from your property without messy or expensive chemical solutions. Motion sensor-activated ultrasonic Animal Repeller sound technology prevents dogs, cats, deer, raccoons, rabbits, squirrels, armadillos, rodents, bats, stray dogs and feral cats from hanging around your yard.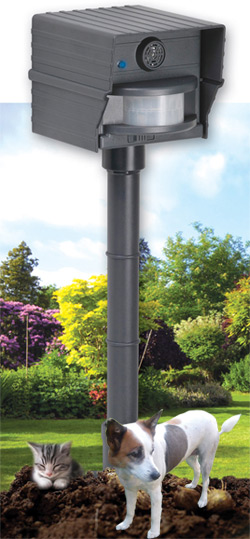 EXPLODED VIEW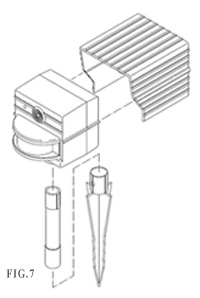 Utilising a specially designed high efficiency ultrasonic transducer, Ultrasonic Animal Repeller projects 130 dB of ultrasound at frequency range of 21,000 - 25,000 Hz. Combined with the unique design of variable sound waves, intruding creatures will not become immune to the emissions from Ultrasonic Animal Repeller.

Ultrasonic Animal Repeller incorporates a sophisticated Passive Infra Red detection system which constantly monitors a fan shaped area of a 130 degree arc up to distance of 30 feet.560 square feet of unobstructed space. and can be used indoors or outdoors to permanently protect a given area from dog or cat intrusion.

You may mount the Ultrasonic Animal Repeller to the wall outside of your building, or use the attached plastic post to stand the unit on the ground. Although the unit is weather-resistant, it is recommended to remove the main machine from the mounting if storms are expected.

The ultrasonic sound emitted cannot be heard by humans but is uncomfortable to animals, whose only reaction is to quickly move away.
APPLICATIONS:
Indoors requires dog or cat intrusion prevention
Near pond to protect fish
Flower bed
Bird bath/ bird house to protect birds
Garden, lawn and yard

UNWELCOME ANIMALS AFFECTED:
Cats,
Dogs,
Squirrels,
Deer,
Raccoons,
Armadillos,
Bats,
Rabbits,
Outdoor Rodents

SPECIFICATIONS:
Dimension:100 X 90 X 94mm
Accessories:plastic post (29 cm)
Weight:290g (main module + shelter+ Plastic Post)
Power supply:9V alkaline battery
Power:Standby current: 0.15mA
-Exit delay time for ultrasound: about 18 seconds
-Warm up time: about 30 seconds
Frequency range:21,000 Hz to 25,000 Hz appro.
Protection Coverage:fan shaped area of 130 degree,
distance up to 10 meters
MADE IN TAIWAN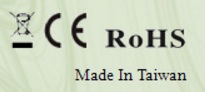 Worldwide Patent