Product
HM2 Automatic Hand Sanitizer Dispenser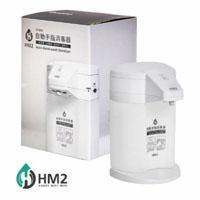 HM2 Automatic Hand Sanitizer Dispenser (ST-D01)
Product ID: ST-D01
Features
This Products has sensor for automatic hand sanitizer spraying which direct physical contact with the machine.
Four adjusting segments designed to suit your personal preference.
This product is lightweight and easy to install. It can be placed on a platform or hung up.
Perfect for house, offices, and public enviroments.
Designed and manufactured in Taiwan. The product is reliable and of high quality.
Specifications:
Specifications
Dimension: 140X140X210 mm
Weight: 620g (including batteries)
Container capacity: 1100 c.c.
Spray: Four adjusting segments
Pump: Gear pump
Power supply: C-size alkaline batteries x 2
Meterial Plastic, Metal
Contents Automatic hand sanitizer dispenser X 1, C-size alkalines bateries X 2