Product
Automatic Soap/Sanitizer Dispenser (Liquid/Spray/Foam type)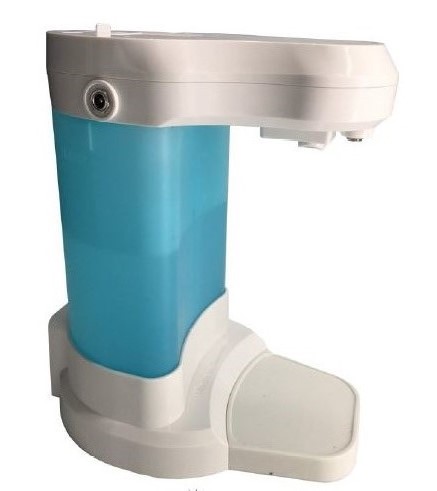 Product ID: 20LSF
Auto soap dispenser has infrared sensor for automatic hand sanitizer spraying which prevents direct physical contact with the machine.
Three adjusting segments designed to suit your personal preference.
This product is lightweight and easy to install. It can be placed on a platform or hung up.
Perfect for houses, offices, and public environments.
Designed and manufactured in Taiwan. The product is reliable and of high quality.
*The product is an Automatic soap/sanitizer Dispenser. Do not use for other purposes.
*Keep the product away from heat, sparks, and fire. It should be stored in a cool and well-ventilated place.
*Do not put any hazardous substances into the product, such as acid, alkaline, toxin, etc.
*Keep face away from the spray nozzle to prevent triggering the sensor and possibly injuring the eyes.
Features:
Led indicate:
Power on: Red led flash 3 times, then Blue led flash 1 time, system start
Function Key: Blue led flash 0.9 ml
Red led flash 1.4 ml
Purple led flash 0.6 ml
Prime new soap: Press and hold function key
Till Red led flash 3 times
Then release, blue led on 2 seconds,
Then pump work 2 seconds
Low battery warning: Red led flash every 2 seconds
Battery fail: Red led on, system halt
Function key volume adjustable
The default volume Blue Led (0.9 ml)
Click button show Red Led (1.4 ml)
Click button show Purple Led (0.6 ml)
Power: Alkaline AA x 4 or DC 6V Adaptor (not included)
Volume: 1500ml
Output control: online button control power off function for refill soap
Batter life:40,000
Dimension: 19 x 14 x 22 cm
Weight: 670 g
Soap type: Liquid/alcohol/foam
Driver: Diaphragm pump
Install type: desktop/wall mount
Water proof
Made in Taiwan